European Plant Science Organization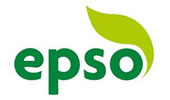 Country: Belgium
EPSO, the European Plant Science Organisation is an independent academic organisation that represents more than 220 leading research institutes and universities with a focus on plant science from 28 European countries and 2 countries beyond. These represent over 27.000 people working in plant science. EPSO has 10 working groups and organises workshops and brainstorm meetings to develop European research and innovation strategies, to provide science advice to policy and to facilitate European projects. EPSO Working Groups most relevant to the proposed project are those on Agricultural Technologies incl. regulatory issues, on Horticulture and on Molecular Farming. EPSO currently prepares its 11th Conference.
EPSO initiated and coordinates already the 4th time the International Fascination of Plants Day (FoPD) – a unique interactive outreach activity worldwide that project partners can utilise to organise outreach activities with high visibility and impact.
In addition, EPSO collaborates with industries and farmer organisations in the Plants for the Future European Technology Platform and has observers from the industry sector. EPSO Working Group chairs, Plant ETP members and EPSO observers most relevant to the CHIC project are member of the project's Stakeholder Advisory Group.