Inulin is a dietary fiber with health-promoting characteristics mainly targeted on gut health. Inulin is extracted from root chicory and used in many food products. The yield and the length of the inulin molecule determines the value and health-beneficial character of this compound. Using NPBT we want to increase both the yield and the length of inulin. The natural production of terpenes in chicory makes the inulin extraction method less efficient and more costly. The other goal of WP2 is to reduce the production of natural chicory terpenes.
The work done during the first 18 months of the project CHIC shows that:
We selected, tested and sent to partners chicory clones.
The NPBT method with target genes for mutating specifically the break-down of inulin in chicory by NPBT was designed.
Using the designed NPBT method we could generate 180 individual mutated plants with mutations in all three the DNA regions involved in inulin break-down.
All mutated plants have been analyzed in great detail on DNA level using various methods.
Out of the 180 generated mutants we could select mutants for each of the three specific regions separately, and in all possible combinations, plus in both copies (alleles) of the three regions.
The selected mutant plants are growing in the greenhouse and are now being multiplied by cuttings in order to analyze the effect of all targeted mutations on the blocking of inulin breakdown in mature taproots.
Methods to analyze the sugar and inulin profile in mature chicory taproots have been set up.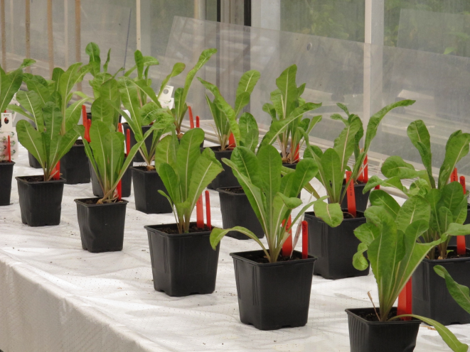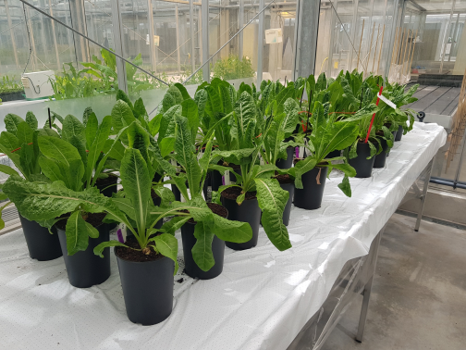 http://chicproject.eu/wp-content/uploads/2020/02/NEW2.3.png
316
486
admin
http://chicproject.eu/wp-content/uploads/2018/01/CHIC-logo-Home.jpg
admin
2019-11-27 11:35:14
2020-02-27 11:44:07
Implementation of New Plant Breeding Techniques for dietary inulin