Lemon Pie © Jordi Bordas_Martí Sans
Art & Science Node presents an art & science webinar and online cooking workshop  as part of 'Capture the Future(s): OUR BIO-TECH PLANET. The Routes to Roots Networks and Beyond' exhibition,  at Plant Biology Europe 2021 Congress
The event would take place over two evenings of 28th and 29th of June, from 5:30 pm.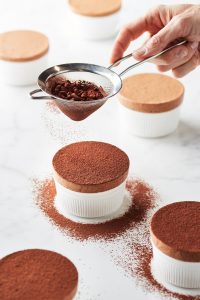 The first evening (June 28) consists of an international art and science talk, films about inulin production and a master cooking exercise with two fabulous inulin dessert recipes invented by Jordi Bordas (World Pastry Champion). You will have the chance to follow precise video instructions to make two unbelievable desserts – Chocolate « soufflé » and Lemon Pie. World renowned artist Jill Scott will introduce us to the world of chicory coffee.
In the second evening (June 29) a discussion and analysis will take place. What words would you use to describe the experience of a delicious dessert? In this moderated session you get to say what you think about not only the workshop recipes, but also the chicory derived compounds and products. Join us in a delightful sensory assessment game with the dessert of your make – while drinking chicory coffee.
More details about the workshop here
Click here to visit the exhibition and click here to learn more about the Congress.
WORKSHOP TEAM

Matthew de Roode, the Innovation Manager at Sensus in the Netherlands will help you to explore the properties of inulin. Sensus is the producer of chicory root fibers and they will provide high quality inulin from chicory roots to the workshop's participants. Inulin is a highly versatile ingredient that not only acts as a sugar replacement and fiber enrichment, it has the same taste characteristic as sucrose and can be used as fat replacement in pastry preparations.

Jill Scott and Marille Hahne are German Swiss artists that cross art, ecology and neuroscience disciplines. For the past two years, they have been exploring the relation between sensory perception characteristics and biodiversity. In a new artwork called "Aftertaste" and a film entitled "Chicory Unpacked", they explore the molecular structure of chicory in relation to models from the gustatory and olfactory system. This unique perspective comes from the Artists-in-Residence Program of CHIC Horizon 2020 Project. They will also describe how to make delicious chicory root cappuccinos.

Jordi Bordas is the winner of the Pastry World Cup in Lyon in 2011. In the past years Jordi has dedicated himself to researching and investigating new, functional ingredients for use in pastry, such as inulin. During the workshop, he will be joined by Adrianna Jaworska – Head of the R&D&i at Jordi Bordas Innovative Pastry Education. They will teach you to make two groundbreaking inulin-based recipes: Chocolate Soufflé and Lemon Meringue Pie.

Art & Science Node: Joanna Hoffmann is an artist working in the field of multimedia installation, XR, video-animation. She is founder and Chair of Art & Science Node (ASN). They will organize the workshop and the immersive, virtual exhibition "Capture the Future(s): OUR BIO-TECH PLANET. The Routes to Roots Networks and Beyond" presented at the Plant Biology Europe Congress. ASN is a creative & innovative network aiming at and committed to the creation of the synergy between art, science and technology. Joanna will be joined by the ASN curator Karolina Wlazło-Malinowska.