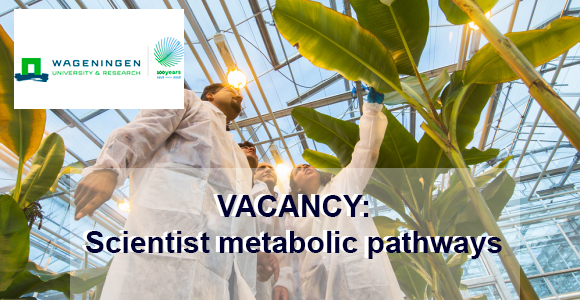 Are you interested to source the biochemical diversity of the plant kingdom as a contribution to a sustainable green economy and for the production of high value chemicals?
Our partner Wageningen University & Research is looking for an experienced scientist with a proven interest in metabolic pathways, preferably in plants. The scientist will implement new methodologies and unravel metabolic pathways leading to the production of (commercially) valuable plant compounds as well as capturing the value of this knowledge by producing such compounds in plants or microbial production hosts. You will acquire, initiate and maintain collaborative projects, through subsidy channels as well as via bi-lateral funding, with industries and/or other research organizations. You will complement a highly motivated, enthusiastic and skilled team of about six scientists and technicians to strengthen research and acquisition in this area and collaborate with University Departments within and outside Wageningen as well as with (international) industries.

This team is embedded in the cluster Applied Metabolic Systems, which is focused on gaining a better understanding at the molecular and genetic level of metabolic processes which lead to the huge biochemical diversity in plants, and the effect of plant metabolites on humans and animals. It houses state-of-the-art facilities, comprising LC/MS and GC/MS for metabolomics and proteomics, and a bionano-receptor platform. The Cluster Applied Metabolic Systems has a total of about 25 staff members, PhDs, Postdocs and guest-workers. It operates market-driven, both in (inter)national consortia as well as in bilateral partnerships with industry and has an excellent scientific track record and patent portfolio.

Explore the biochemical diversity of plants to meet the needs of society.
Applied Metabolic Systems is part of Bioscience, one of the business units of the Wageningen Research foundation of the Plant Sciences Group. Wageningen Research together with Wageningen University forms Wageningen University & Research. At Bioscience, we study at the molecular level the regulation of metabolic and developmental processes of plants to meet the needs of our growing society. We are developing tools that allow to tap on barely revealed genetic resources. Wageningen UR is an internationally renowned research institute in the fields of life sciences and sustainable production.
Qualifications
a PhD degree;
expertise in (at least several of) the areas of:

Metabolic engineering
Relationship between chemical structures and enzymatic conversions
Enzymology
Evolutionary genetics applied to metabolic pathways
Synthetic biology;

a keen interest in translating scientific knowledge into applied research;
excellent communication and networking skills;
an open and professional working attitude;
team player mentality with experience in working in a multidisciplinary team;
excellent command of English, both written and spoken.
The position
A meaningful position with for a maximum of 36 hours per week initially for a period of one year with a possible extension to obtain a permanent position. A competitive salary, depending on your relevant experience scale 11 or 12 from a minimum of € 3.255,- to a maximum of € 5.748,- based on a 36 hours working week, in accordance with the Collective Labor Agreement for the Wageningen Research.

In addition:
8% holiday allowance;
a structural end-of-year bonus of 3%;
excellent training opportunities and secondary employment conditions;
excellent pension plan through ABP;
171 vacation hours (based on full time employment);
a flexible model to put together part of your employment conditions yourself, such as a bicycle plan and the possibility to purchase extra and good supplementary leave schemes;
flexible working hours and holidays can possibly be determined in consultation so that a good balance between work and private life is possible;
a lively workplace where you can easily make contacts and where many activities take place on the Wageningen Campus. A place where education, research and business are represented.
For more information about this function, please contact Dirk Bosch, Group leader Applied Metabolic Systems (telephone +31 317 480 933, e-mail: dirk.bosch@wur.nl).
For more information about the procedure, please contact vacaturemeldingen.psg@wur.nl.

This vacancy is open until January 20, 2020.
For this position you can only apply on line: http://www.wageningenur.nl/career
https://chicproject.eu/wp-content/uploads/2019/12/VACANCY-WUR.jpg
300
580
chicproject
https://chicproject.eu/wp-content/uploads/2018/01/CHIC-logo-Home.jpg
chicproject
2019-12-30 09:51:42
2021-01-23 13:00:01
Vacancy: Scientist metabolic pathways